About Cornerstone Performance
There are evil people in this world who use their might to hurt and oppress the weak. 
It is the responsibility of good, strong people to support and protect the weak.
It is an undeniable reality that to help some people you have to sometimes hurt other people.
The proper use of a firearm in the single most effective tool that can be used for the good to protect the weak from the evil.
These beliefs are the Cornerstone of everything we do at Cornerstone Performance.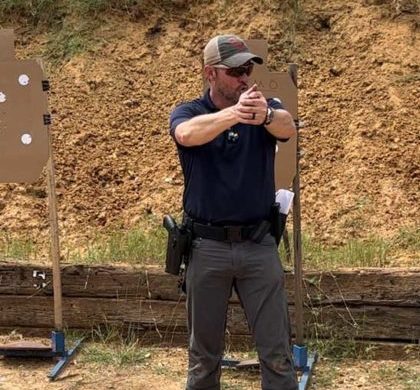 I've been a full time firearms and tactics instructor for one of the largest police departments in Texas for six  years, where I'm primarily responsible for our department's cadet pistol and shotgun program as well as our firearms instructor school.
An advantage that this experience brings to the table is the sheer volume of shooters I've been able to train with.  Our workload includes in-service rifle and pistol training for well over 1,000 officers, and multiple cadet classes every year.  With that number of shooters to interact with I've been able to observe a wide variety of experience levels, performance abilities, and individual shooter deficiencies.  Building training that is challenging for the high level shooters, as well as training that is accessible for novice shooters, is something that I've taken great pride in.
My competitive shooting career started over a decade ago.  
I'm a member of our department's marksmanship team and I am the match director for one of the largest LE-Military shooting competitions in the country.  I view the success of that match as a reflection of my approach to firearms instruction.  Building a match that will challenge the winners, but won't crush the spirit of the people at the bottom of the rankings, that is well organized and runs smoothly, is no different than how your training course should be built.
I'm a Master Class shooter in USPSA (Limited and Production Divisions) and IDPA (Carry Optics Division).  I'm a multiple division Grand Master in Steel Challege.
The dynamic, unpredictable nature of competitive shooting have contributed greatly to my development as a shooter and I work to implement those lessons into every class I teach.